Welcome to Sharp Transit.
Since his company's humble beginning in 2001 in a North Carolina warehouse, Ben Sharp has been the kind of owner that makes American business successful. He has swept floors, moved equipment and spent countless hours untangling problems and working to improve.
He learned early on that operating a truck line wasn't easy, but it was rewarding. He vowed to work as hard as anyone at his company and to share his successes with his employees. The company now owns 280+ tractors and 280+ refrigerated trailers and employs over 600 people.
As Sharp Transit continues to grow, Ben Sharp has great plans for its future – and as from the beginning, the success of this family-owned company will be built on integrity, hard work and unparalleled service.
Our Customer
Sharp Transit has been a dedicated hauler for Aldi Grocery stores for 20+ years.  With six terminals up and down the east coast, we provide Aldi with warehouse to store delivery services. Dry goods, fresh produce, frozen food and other merchandise are all a part of the goods that we carry. Our drivers are professional not only on the road but also during the process of loading and unloading their trucks. Providing top quality service to our customer and public in a Safe, Efficient and Professional manner is one of our top priorities here at Sharp Transit.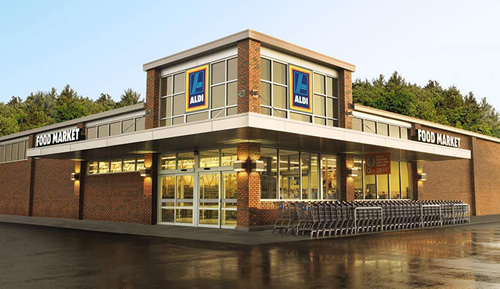 Delivering Groceries Safely, Effectively and Professionally